Squashfs - applies dm800se i dm500hd only ! ( version1 of course)
25) You can use that function but it's not necessary. However I recommend you usage in dm800se i dm500hd V1 by pressing <Move squashfs to storage> - dreambox will become faster (booting as well as normal run)
To perform that operation go to -> MultiMiniBoot < Blue > Extensions and perform < Move Squashfs to storage >:
Attention - since starting that operation pendrive must stay inserted into dreambox - otherwise you will have to re-flash dreambox ( don't be afraid, you will not damage dreambox ):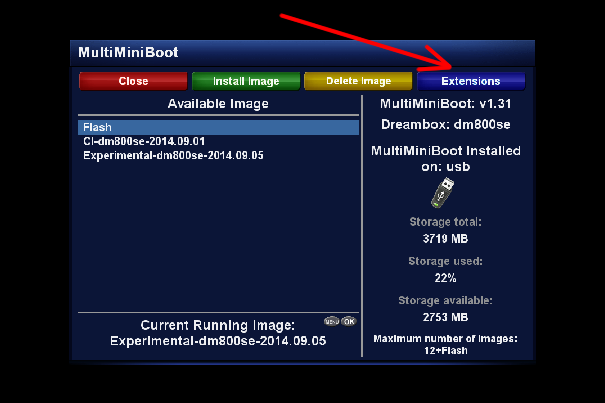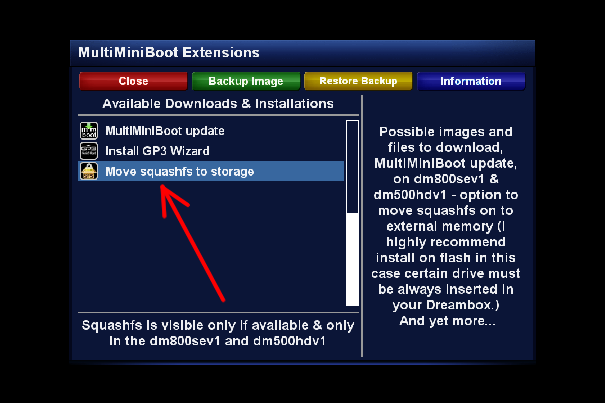 After executing this function - mmboot will ask for restart - of course push <Yes> - that reboot takes more time than normal - box will be restarted twice in the time of booting - summary time of whole operation (moving squashfs including restarts) is about 4-5 min. You have to just wait till dreambox will start form flash again.
This double restart is one time operation - just this time.
26) Now you're ready to install image into usb. goto -> MultiMiniBoot < Blue > Extensions - and you can choose one of them:
1 Download Experimental-Image
2 Download Merlin-Image
3 Download Newnigma-Image
4 Download OpenPLi-Image
5-Download OpenATV-Image
6-Download OoZooN-Image
7-Download TS-Image
8-Download Dream-Elite-Image
9-Download Dream-Elite-TEST-Image
10-MultiMiniBoot update
11-Install Wizard GP3 (when GP3 is installed - will be -> Install CamFedd for GP3)
12- Move Squashfs memory (only if available)
27) Highlight ; let say < Download Experimental-Image> and press OK - after downloading you will see < Execution finished > press < OK > again and you can install image by pressing < Green > Install image: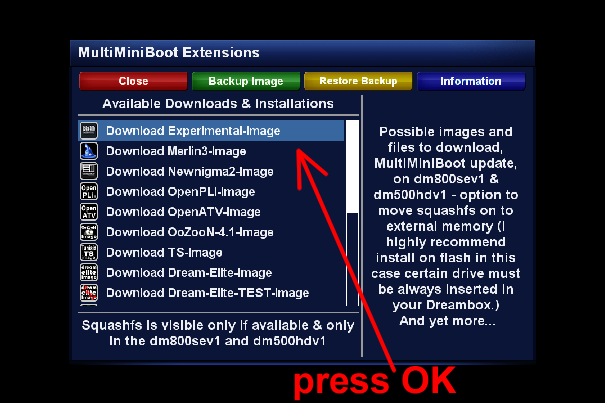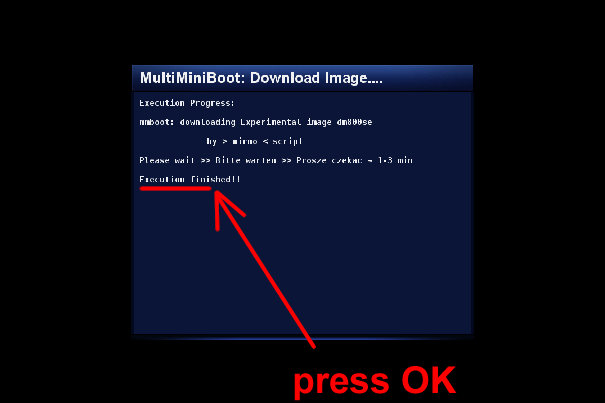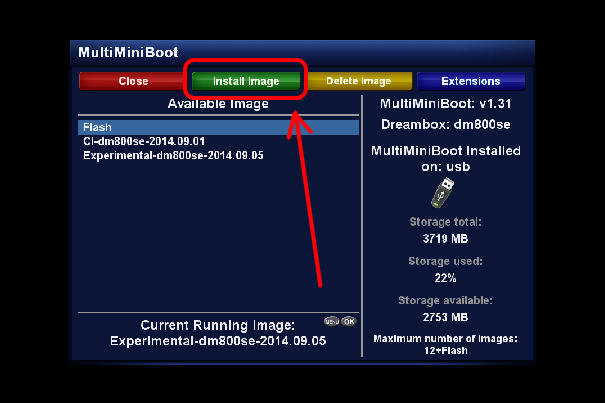 28) You will see <Source Image file> - press arrow down to <Image Name> ( arrow left or right will copy Source Image File to Image Name):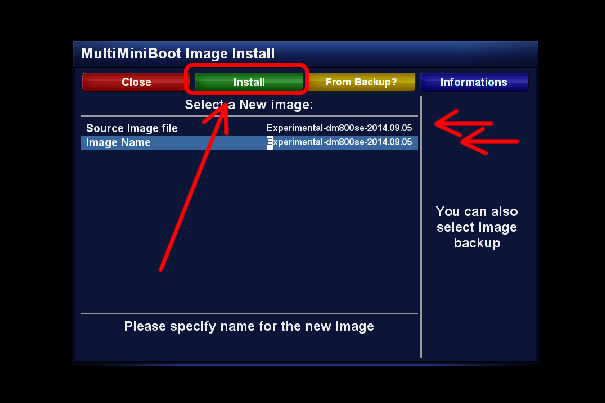 29) And just press < Green > Install -> confirm by pressing < Yes > and wait till dreambox will be rebooted and start on a new installed image.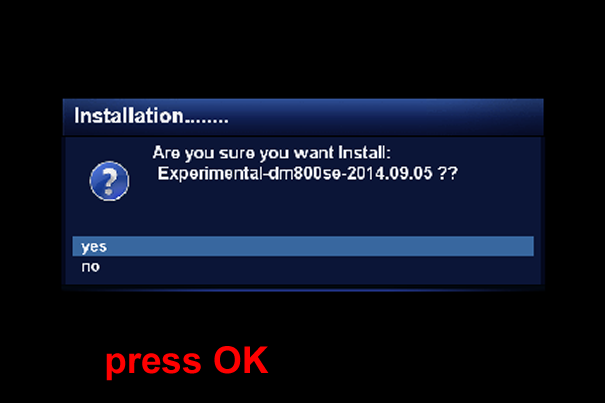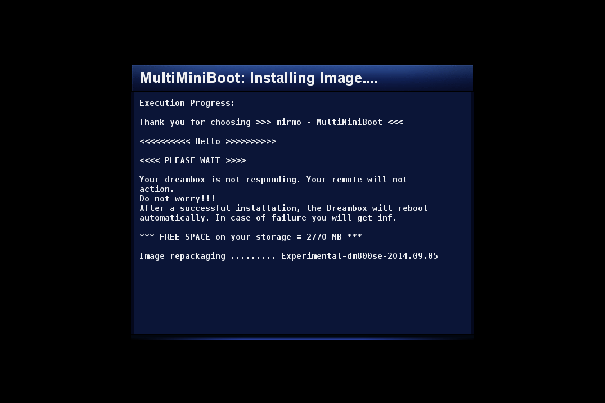 30) Installing image takes from 1min - to even 8min, according to pendrive speed ( in my case, installing into noname pendrive in 800se took less than 3min. )
have fun and enjoy - wish you as usual
31) Attention!!!
On image installed into USB (pendrive) please don't mount pendrive again.
Pendrive has been already mounted (in the boot time) and there is no possibility to mount it again.
32) Using mmboot we can install GP3 Wizard on just installed fresh image just using remote controller.
To do that, press <Blue> Extensions - into mmboot - and select <Install GP3 Wizard>
Highlight it - and press OK - confirm Restart GUI -Yes - Done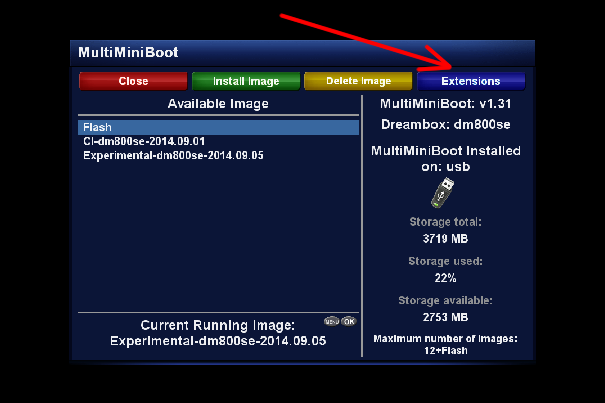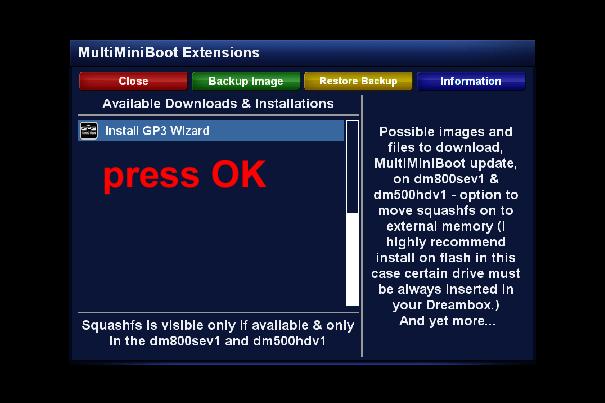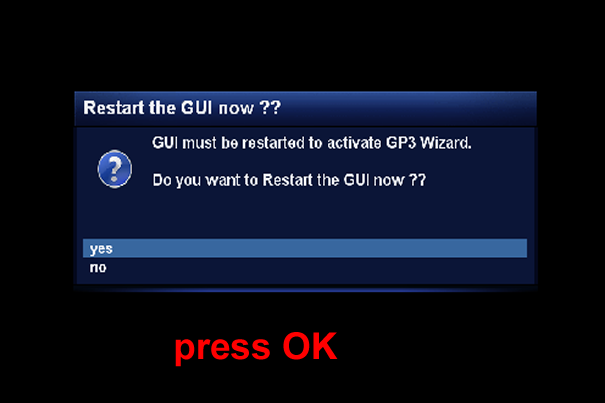 After restarting GUI - enter menu -> Plugins - and we have our Gemini3 Wizard - which can be immediately installed:
Select - press OK - confirm Yes and wait till Gemini-Plugin will be installed and ask for restart of Dreambox - Yes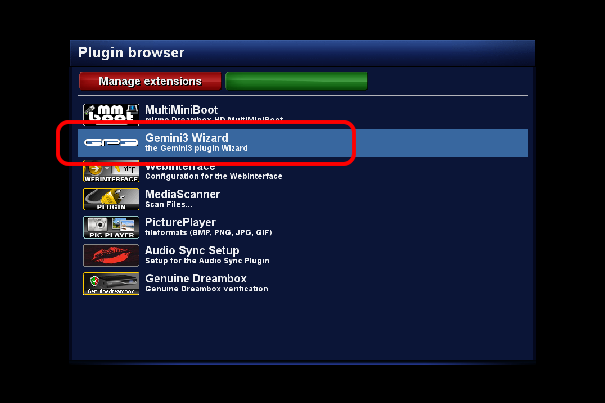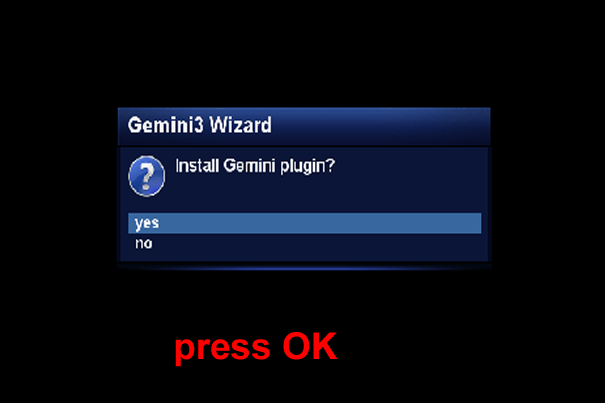 After reboot GP3 has been installed.
===================================================
BACKUP
33) you can also perform backup - what mean exact copy of image - to do that press <Blue> Extensions and <Green> Backup Image.
Select image for backup - and press OK - or <Green> - and confirm Yes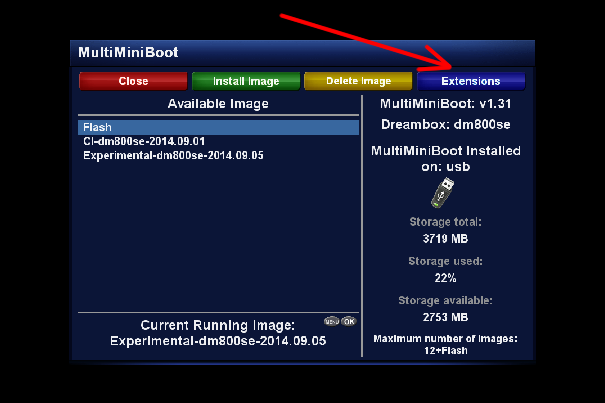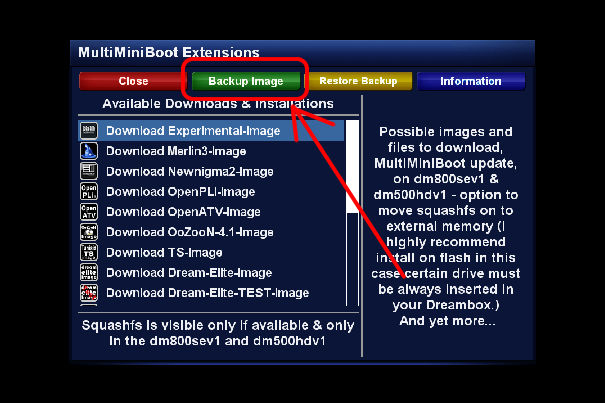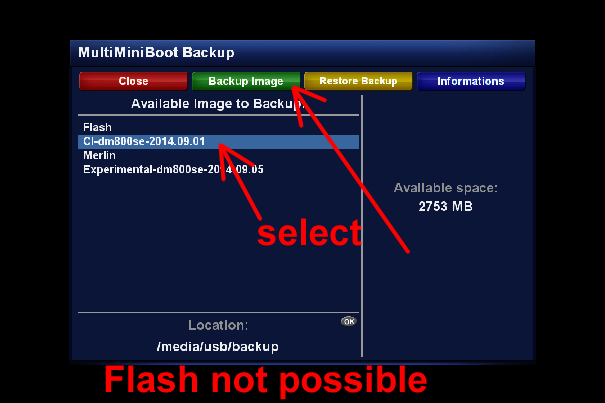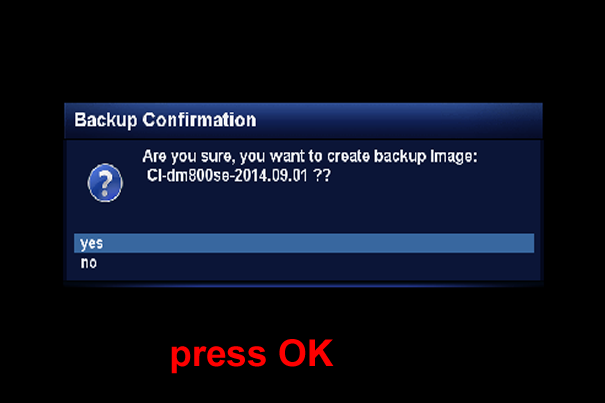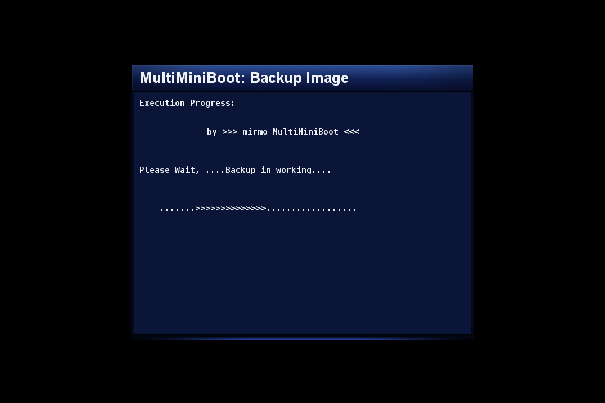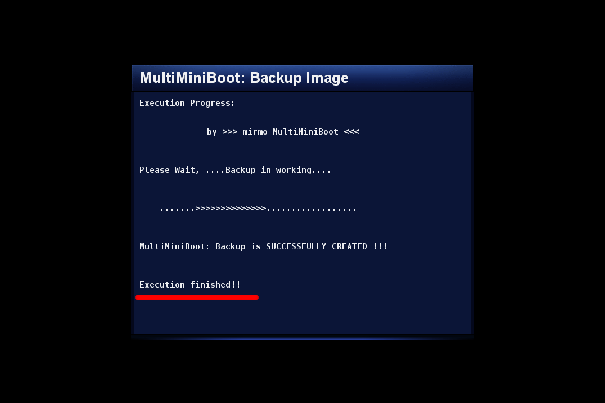 =================================================
=================================================
34) In the same, simple way, you can restore backed-up image.
To do that, press <Blue> Extensions and <Yellow> Restore Image( I mean restoring your Backup )
and next like installing a new image (it takes a few seconds ) (We can also remove Backup here - Delete)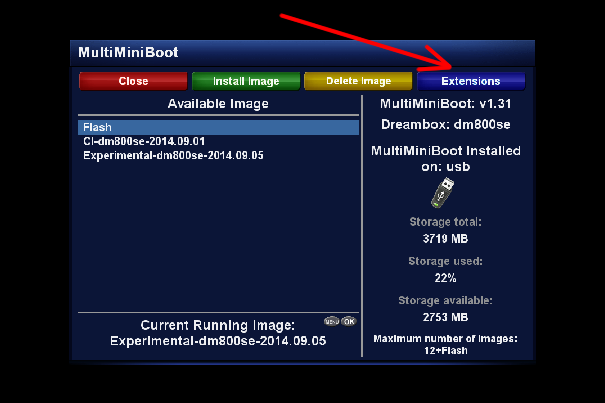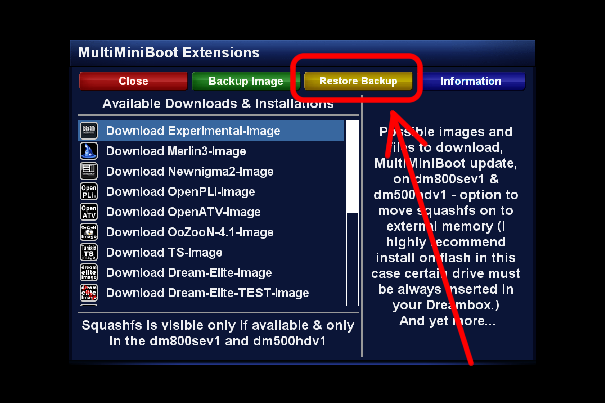 Since 1.31 version "MultiMiniBoot Update-Check" have been available - you can enable it or disable. To do that, enter MultiMiniBoot and press < menu > . You can also enter eParted there to initialize hdd, other pendrive, cf or sd.